Last Saturday the sun was out and feeling like summer, so we went for a little walk around Parc Lafontaine.
It was a nice day for kicking off the shoes and chilling on a park bench.
A family of ducks were enjoying the warm day and taking a cooling dip in the lake.
The colourful train that gives rides around the park happened to be crossing the bridge when we were nearby and provided some nice reflections in the lake below. I didn't notice at the time, but it was funny how three ladies on the bridge were wearing matching tops to the train carriages 🙂
While taking a little rest on a bench I set the camera down on the bench and opened the shutter when anyone passed by. It was a bright day and as you can see my focusing was off, but I actually liked the blurred look and pushed the vibrancy and blacks for a more surreal look and combined 3 shots into a single montage.
A paint effect experiment
I thought the following image would lend itself to a painted effect.
First, I exported into Topaz Labs Simplify to give the watercolour look and then had the idea to brush out (revert to original) the people in the image.
I should have spent a bit more time brushing out around the figures as only after re-importing to Lightroom did I notice I had erased some of the paint effect around the head of one of the girls on the bench to the right. Although the fact one of the girls appears to be pointing at it, could have made a fun quote "Look you missed a bit"…
Unfortunately once an image is saved in Topaz it doesn't allow you to go back and undo any step in the previous edit. As this was more of a test I decided to import the image into another Topaz Plugin – Lens Effects – and add some blur around the central figure.
Here's the before/after comparison…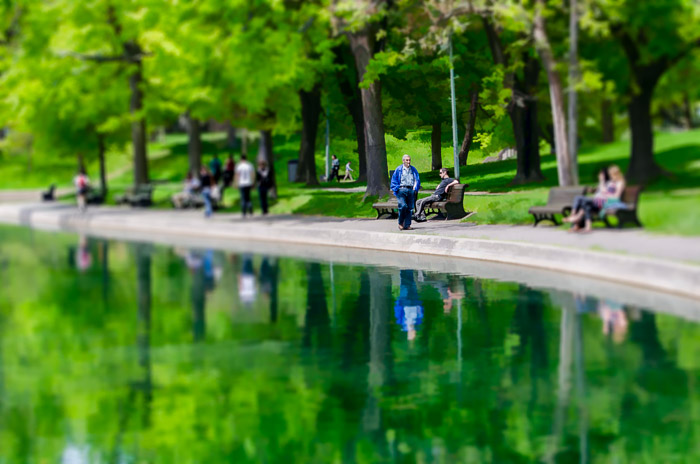 After leaving Lafontaine Park, we strolled down Saint Denis street…and a few more shots were to be had.
First, there was a lady walking down the street happily playing her accordion.
Then there was the Saint Denis Trixi. I've not seen this bike taxi before and maybe it was just a publicity stunt for the day as most stores were having a sale and had stalls on the pavement.
On avenue Duluth there was a group of street artists doing what looked like some hand painting to music next to Philippe Mastrocola's mural – Thankfully they were only painting on some paper, not over Philippe's wonderful and popular mural.
I grabbed a quick shot as I was passing that resulted in it being not the best capture and a bit blurred, so I added more blur and streak to give a bit of movement to the image.
Thanks for stopping by. Until next time.
– Martin
Montréal in Pictures
Your virtual guide in and around Montréal