For the next few posts I'll be sharing some images taken during my recent trip to the Charlevoix region in Quebec.
Today's post includes a couple of shots taken in and around Quebec City where we spent a couple of days prior to heading up to Saint Siméon in Charlevoix.
I didn't take many shots in the actual city on this occasion, but did of course get a couple of the Château Frontenac while taking an early evening walk along the Terrasse Dufferin. It had just rained, so I tried to capture some reflections in the wet boardwalk..
If you're not feeling like taking the stairs down to the old quarter, the Funiculaire ($2.50) is a quick way down (or up).
The ever popular rue de Petit Champlain was busy. I stopped briefly to take a quick shot from beside my favourite yellow shutters.
I always seem to take a picture from this particular spot each time I visit…was quite different to the last time I shot here in December…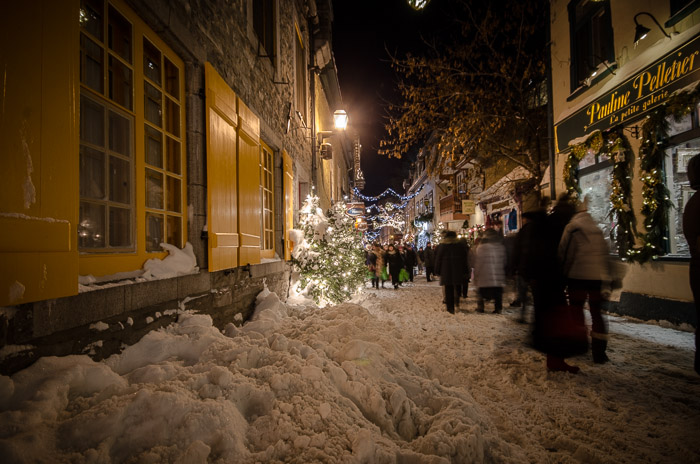 If you're interested, here is a quick link to other shots of Quebec City in the winter from my last visit in December.
I love the small streets of Quebec City and could spend a lot of time shooting there. It's nice that there is very little litter in the streets, unlike Montreal.
A building I really wanted to photograph was the Petit Séminaire de Québec.
Another of my favourite buildings in Quebec City is the édifice Price that contains the apartment of the Quebec Premier.
Unusual Passages art installation
Walking through lower Old Quebec you can't help but notice the art installations that are part of The Unusual Passages (Les Passages Insolites) outdoor art show (July 17 – October 18). The project is the work of local visual artists and a collective of architects from the Quebec City area.
The bright plastic installations made for a nice juxtoposition against the historic building façades of Old Quebec.
If you visit Montreal, I highly recommend you take a day or 2 to visit Quebec City. It's only two hours by car and has a lot to offer in the way of sightseeing and good cuisine. If you like Old Montreal, you will certainly fall in love with Quebec City.
Tomorrow I'll have some pictures of the nearby Montmorency falls.
Thanks for stopping by. Until next time.
– Martin
Montréal in Pictures
Your virtual guide in and around Montréal
Related Images: