Although Montreal is a long way from the ocean, surfers don't have to travel far to get their fix.
Located just behind Habitat 67, a growing number of local Montreal surfers can be found riding 2 static waves formed by the rapids there. Since I was in the area last week I headed down the river bank to check out the action. Being a gorgeous afternoon there were quite a few enjoying the surf…I was told weekends can get pretty busy.
To ride the wave, surfers take turns paddling out to one of 2 waves not far from the shoreline…Unlike in the ocean, you don't need to battle through incoming waves to get to where the wave breaks, instead you just ride the current and then hope to catch the wave. If you miss the wave or fall, you then have to paddle to the shore and walk back to the starting point…and try again. Surfing in Montreal looks like a lot of fun!
Surfing – Montreal style
Surfers are not the only ones drawn to ride the static wave behind Habitat 67, a number of paddle boarders and kayakers were also enjoying the surf.
The rapids behind Habitat 67 are not the only rapids to be found around Montreal. A much larger one can be found further west between Lasalle and the Île aux Hérons and Île aux Chèvres. This is where the Saute Moutons jet boats take their clients for a soaking (departing from the marina in the Old Port). As I was shooting near Habitat 67 a jet boat passed by and I waited to get a shot as it passed below the Montreal Casino.
Hopefully I'll get over to the Lasalle rapids and get some more shots of Montreal surfers before the summer ends.
Recently sold prints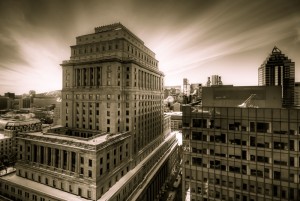 This print of the Sun Life building was recently purchased in digital format and is available to purchase (signed and numbered) in the online store within the Architecture and Urbanscape gallery or ready to hang in the framed print section.
Thanks for stopping by. Until next time.
– Martin
Montréal in Pictures
Your virtual guide in and around Montréal