Probably one of the most photographed homes bordering Saint Louis Square is the red house on the corner of rue du Square Saint Louis and avenue Henri-Julien. I thought it would make a nice composition having the red hydrant in the lower corner of the shot. Unfortunately the yellow marker was a bit too obtrusive. I think these are installed to enable firefighters to locate hydrants if buried in deep snow. I could have painted it out of the image, but instead decided to go the easy route and add some blur to lessen the imapact.
Walking through the square I took afew shots of the groups of benches around the central fountain.
Another set of benches on the opposite side of the fountain. For this particular image I processed with a pseudo infrared look using Lightroom.
Having purchased the complete Topaz bundle of photo editing software the other day, I thought it was about time to give the Topaz Simplify plugin a whirl. I had another image of a set of benches and decided to give it a painted look.
For someone whose painting skills are at best limited to house decorating, I have to say I enjoy the flexibility that Simplify provides for transforming photographs into varied styles of painted art work, albeit without the satisfaction of having your paint dry on a canvas – at least there are no brushes to clean.
Here is a before/after view that shows the transformation…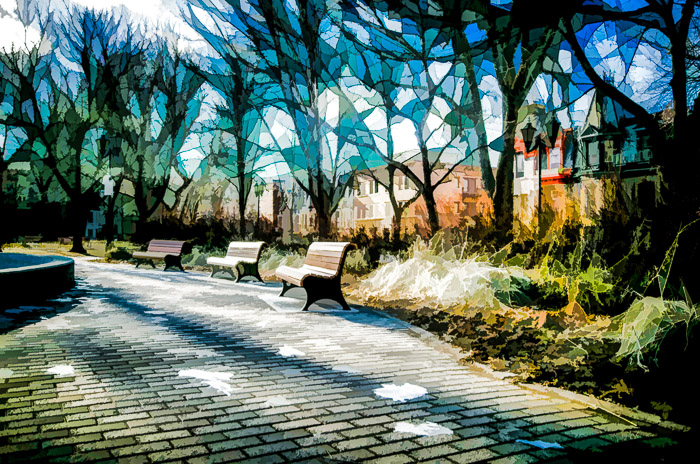 The last pic for today is of the central fountain. I had taken the shot, shooting into the direction of the sun to get a washed out look, but during processing I opted to tweak it in Topaz B&W Effects and attempt to give it a vintage look. B&W Effects also comes with a nice selection of borders. Although I don't tend to add borders on my images, these could come in handy for some printing projects.
Thanks for stopping by. Until next time.
– Martin
Montréal in Pictures
Your virtual guide in and around Montréal