I mentioned in the last post that yesterday was the Weather Network's Sunset Day over on Google+ where they invited people from around the world to share images of sunsets. Since I've been struggling the last few days for inspiration on what to shoot, this was a welcome challenge, particularly since the weather was in full support. Actually a few more clouds would have been nice, but better than if it had been overcast and raining.
One idea that I had had was to go back up the mountain and shoot the setting sun from the North side, and on my return hopefully get a shot of someone playing the piano under the light at the Kondiaronk Bélvèdere…but I decided instead to go down to the Old Port and take shots around the Bonsecours Basin.
As I mentioned, there were not many clouds making the sunset not the most stunning, but with a little help from Lightroom I was pretty pleased with the result.
As I said, Lightroom is to thank for the nice colors…here is a before/after for what it really looked like 😉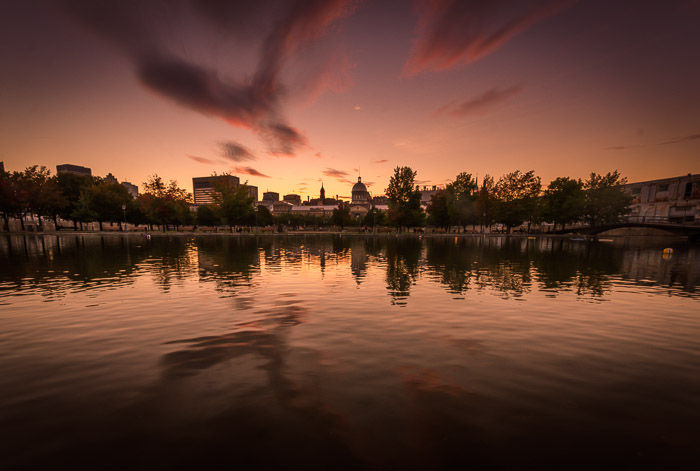 As luck would have it, it was also a full moon last night and I was fortunate to have decided to go shoot the sunset at Bonsecours Basin since I spotted the moon just rising behind the Terrasses Bonsecours…
I also discovered that the Quai des Convoyeurs is now open to the public…I stopped to take a few shots, but you will have to come back tomorrow for those 😉
Thanks for stopping by. Have a great weekend everyone!
– Martin