In part 3 of sharing some shots taken during my trip last week to the North West of Abitibi, today's post is of a couple of sunsets, an early morning on lake Abitibi and my attempt at shooting the Milky Way.
The weather wasn't the best while we were there – quite a bit of rain, torrential at times – but thankfully there were a couple of nice early evenings when I was able to shoot a few sunsets at the Macamic and Abitibi lakes.
The first set of shots were taken at lac Macamic…
Another shot of the Sea-Doo but with a little mist added using Topaz Lens Effects for some added atmosphere.
Here is the before (3 exposure HDR) and after comparison.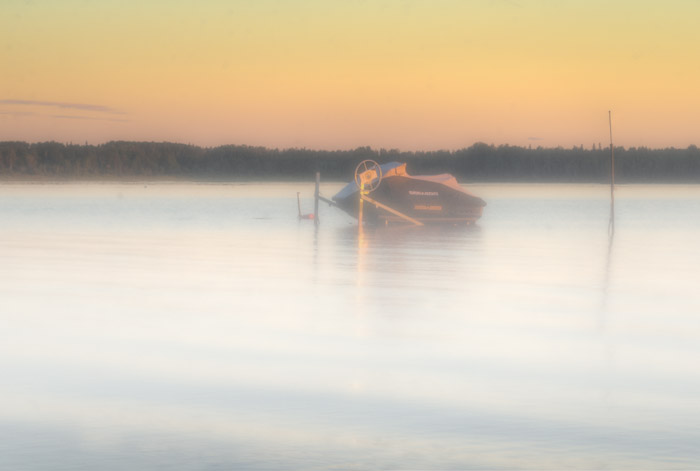 I shot another from pretty much the same angle but with a longer exposure to flatten the water more.
On another evening I was able to get a shot with the small moon crescent.
The next set was shot at our chalet on Abitibi Lake.
Another evening on lac Abitibi, but less stormy looking…
Early morning on Abitibi Lake
I'm not much of a morning person – especially when on vacation – but since we had to be up early on the last day, I took the opportunity to shoot the lake just after sunrise. It was so peaceful with only the local wildlife doing their morning stretches to keep me company…
I thought the cloud formation was particularly nice…
The fog filter is one of my favorite Topaz Lens Effects presets and I used it again on this next shot (since the natural early mist had evaporated by now).
Like with the Sea-Doo image, here is a before and after.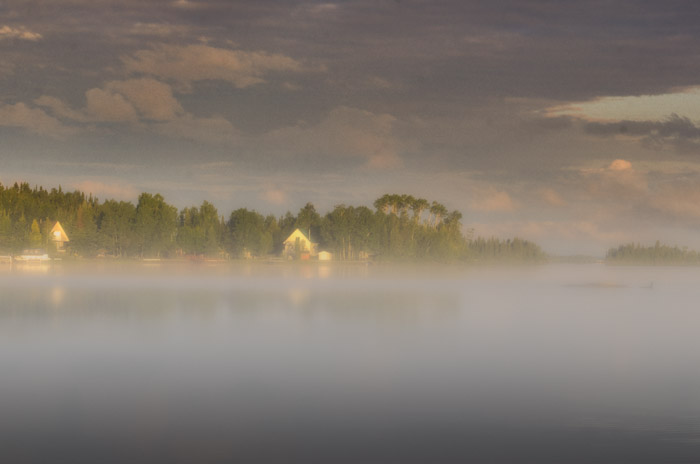 As I was about to pack up for the long drive home, I noticed these low dark clouds and had to grab a few more shots.
A first attempt at photographing the Milky Way
Something that I really wanted to get while away from the city light pollution was a shot of the Milky Way. Even though I had driven 8 hours, had quite a few beers to chill on arrival, I managed to stay awake until about 1AM to get a couple of shots. Unfortunately it wouldn't be until around 3AM when the Milky Way would have been directly across the lake and I had to make do with shooting it near the only street lamp for miles  🙁
I should have stayed up for a better angle, but thought I would have another opportunity, alas the other evenings were all too overcast. Here anyway is the best I could manage.
By the way, I found Stellarium to be great for planning when to shoot the night sky (or just star gazing) – without it I wouldn't have had a clue where and when to look for my attempt to shoot the Milky Way. If you are interested, the free download is at http://www.stellarium.org/
Thanks for stopping by. Until next time.
– Martin