In my continuing coverage of one of the large construction projects currently under development in Montreal, last month I revisited the construction sites in the vicinity of the Bell Centre.
One sign of the development progressing is the fact there are now 8 cranes in the immediate vicinity of the Bell Centre. But the number of cranes is to be expected when you consider the following projects are being built in parallel:
Tour des Canadiens
I'll start with the Tour des Canadiens that's being built right next to the Bell Centre where the Centennial Plaza used to be. Since my last visit in February, it looks like the excavation is complete and construction has begun.
Although not perfectly lined up with the shot I took from a similar angle in February, here is a comparison of then and now…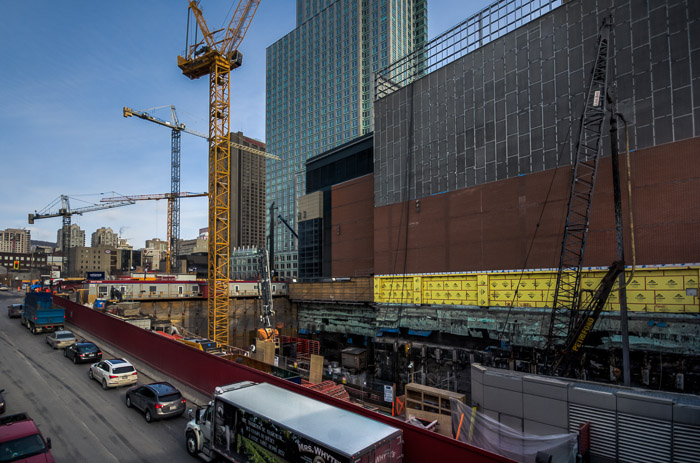 Roccabella Condos
The most advanced condo project is the Roccabella Condos adjacent to boulevard René-Lévesque.
This view looking west along avenue des Canadiens-de-Montréal will disappear once the L'avenue Condo project is complete.
Deloitte Tower
The Deloitte Tower is beginning to take shape along Saint Antoine street with the glass façade on the lower floors now in situ.
I'll be checking the development of these major construction projects again in a few months time and will post another update – hopefully by then, both the Icône and L'Avenue condos will be starting to rise up.
I've posted before the artist renditions for each development (except for the Icône Condos), but here they are again with the location of each superimposed on the map of the area.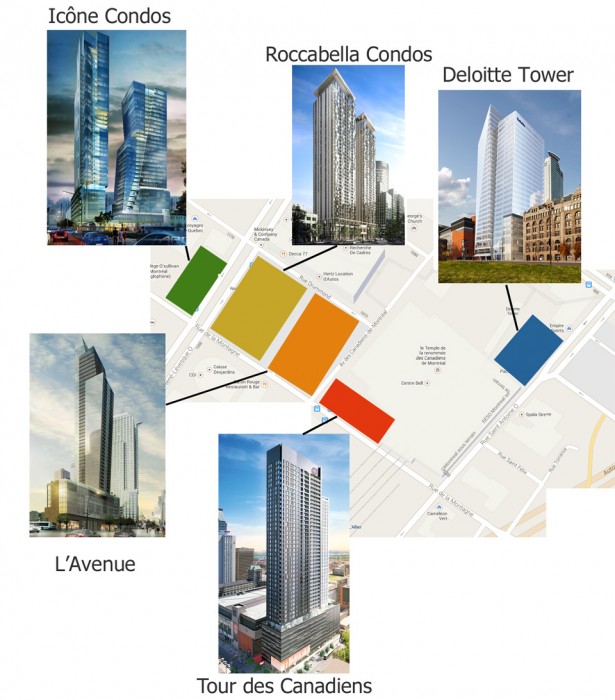 I was looking for an image that showed how the area will look when all the projects are complete and came across a great thread  (with lots of different views) on the skyscraperpage.com forum…well worth checking out if you are interestedin skyscrapers and new developments happening around the world..
Here are a couple of viewpoints, including the proposed Tour des Canadiens phase 2 development that was recently announced and will be developed on the south side of Saint Antoine street (shown in white). I added labels and colour overlays to help locate each new project).
Note: In the above skyline pictures the blue towers are the proposed Tour des Canadiens Phase 2 development. The view from the Peel Basin will not be quite as clear as this given the number of condos being built in the foreground Griffintown projects.
To finish. While in the area, I noticed a nice refection of the Crystal hotel in the Cité du Commerce Électronique  tower on René-Lévesque…
Thanks for stopping by. Until next time.
- Martin
Montréal in Pictures
Your virtual guide in and around Montréal